New Yawei Laser Cutting Machine Installed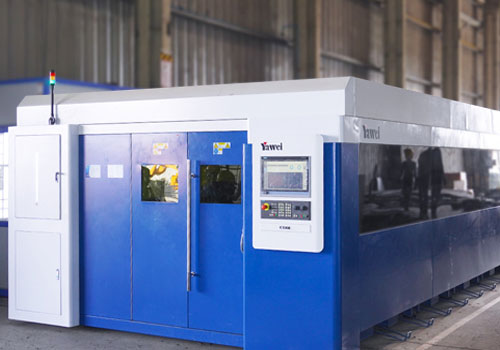 New Yawei make Laser cutting machine, installed in Unit-01 of Propel Industries, was inaugurated on March 2, 2021.
The machine can cut steel sheets up to 20 mm thickness using 4KW IPG Power source with required surface finish. The laser cutting process is always preferred to achieve high quality standard.
The 8000mm x 2500 mm table size Fiber Laser machine is one of the largest machines in the region.
The machine comes with German based IPG resonator (4KW), cutting head from Precitec Germany and Siemens 840DSL Control Systems.
High speed, high acceleration and deceleration, reliable rack and pinion guides are the key specifications for maintaining repeatability.
The machine is fitted with an auto pallet changing facility to achieve maximum machine utilisation and efficiency.
A fully-covered machine canopy with safety protection worktable ensures a safe work place.
Fiber laser cutting method is an effective one to cut sheet metal when compared to carbon dioxide (CO2) lasers but the former is more suitable for our application.
Key advantages of the laser cutting machine
Production is enhanced by 100% In-house cutting facility.
Reduces the through put time in screen and other sheet metal products.
Enhances the quality of cutting and piercing with good surface finish and dimensional accuracy.
Elimination of post cutting work like grinding and cleaning.
Machine can perform engraving process which reduces the fit-up time in fabrication process.