Propel Industries is a socially responsible business organisation which believes strongly in giving back to the society. Education is the sector that the company strives to make an impact in, as part of its CSR activities.
The management believes that it is only quality education that can bring in equality. This staunch belief system has been passed on to the employees as well.
Propel industries leave no stone unturned to facilitate holistic development in children.
What we do?
Sponsore children's education through 'Mazhalir Satta Udhavi Mandram' for the last three years. A total of 20 students have benefitted from this scheme, so far.
Free coaching is being provided for the students from government and government-aided schools to write the National Eligibility cum entrance test (NEET). We offered free weekend classes as a one year pilot programme.
Summer camps and year-long weekend programmes were conducted in various government schools. These programmes include personality development classes, spoken English classes, math and computer classes in addition to sports and games.
Propel Industries has joined hands with Aram Foundation and adopted the Government elementary school in Selvapuram. The school has been provided with smart classroom and more teachers to help the slow-learners.
Propel Industries in association with LMES academy conducted a one-day science-a-thon in May 2018 where students conducted live demonstration of various science experiments.
As a recognition to the exemplary work done, the first-ever Rotary CSR excellence award was bagged by Propel Industries under the category 'Education- School Infrastructure'. The award was received by Ms. Vidhya Senthilkumar, director –branding and CSR activities, at an event held at Kochi, Kerala. The help extended by Propel Industries to government schools in and around Coimbatore for their overall development was well documented and appreciated.
In her acceptance speech, Ms. Vidhya Senthilkumar said , " We thank Rotary for recognising our exemplary CSR initiatives and for giving us a CSR Special Recognition Award in the category of Education – School Infrastructure. Propel Industries is helping many government schools in and around Coimbatore to improve the academic performance of students, engage them in co-curricular activities and also provide infrastructural support."
True to the adage that 'Many hands make light work', Propel Industries involves enthusiastic team members to participate in the CSR activities.
Determination, Dedication, Dare – Sridevi
It is a story of inspiration. A. Sridevi is all set to join Coimbatore Medical College after obtaining 450 marks in National Eligibility and Entrance test (NEET). Coming from a humble background, this is certainly an achievement.
Sridevi hails from Coimbatore and she finished her schooling from the Government Higher Secondary School , Chettipalayam in 2019. As a child, she dreamt to become a success so that she can elevate the financial status of the family. Her parents work as labourers. Her sister is a commerce graduate.
In her first attempt at NEET in 2019, she was not able to secure the required score but she was sure she would do everything possible to make her dream of becoming a doctor come true. She tried her hand at it in 2020 and she did well.
When asked, Sridevi says it was her sister, Srividya who kept insisting that she pursues her academics seriously. "After I finished Class 11, I came to know about the NEET exam and about Anila Study Centre. My stepping into Anila Study Centre helped me get the required score for NEET. I am ever indebted to Mr. M. Govind of Anila Study Centre. It was his words of motivation which kept me going for the last two years. Ms. Shobana, a teacher at the centre did her best to help me out. I would spend hours together at the centre referring the books and learning. Propel Industries has gone all out to coach 42 students for NEET in the last two academic years – 2018-2019, 2019-2020. The National Council of Educational Research and Training (NCERT) textbooks were given to students who are from the government and government-aided schools. Various reference books were sponsored and kept at Anila Study Circle, Coimbatore. The salaries of the teachers were also sponsored. My medical admission would not have been possible without the support of Propel industries," she says.
As a message to aspiring students, she says, "We need to keep reminding ourselves that nothing is impossible. Do everything in your hands to make your dream come true. Focus is the key. Keep trying and I am sure results will come your way. Your background should not stop you from trying."
Her long-term aim is to do a post-graduation in medicine though she is yet to decide on the field of specialisation.
Where there is a will, there is a way is an old adage but is still relevant.
Environment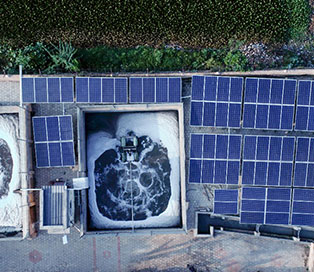 Propel Industries joined hands with 'Neer Nilaigal Pathukappu Arakkattalai' (water bodies protection trust) to protect the Sulur lake. There is a big lake covering 177 acres and a smaller lake covering 75 acres. These are lifelines to 40 villages in Sulur, Coimbatore, Tamilnadu. The Sulur lake is the only source of water for 500 acres of agricultural land. It is also the additional source of drinking water to the town of Sulur.
The Sulur (special grade) town panchayat Sewage treatment plant handles 10 lakh litres of sewage per day and plays a vital role in maintaining the good health of the Sulur lake.
It was November 2019. The walls of the sewage treatment plant had to be strengthened as there was a leakage. Propel Industries took up the onus of this project. It was completed in a month's time. The manpower to finish the task was also provided by us.
With the combined efforts of Rotary Somanur, Rotary Jaffna, Apex, Simta and many others, we were able to finish the project.
Playing a part in the rejuvenation of the lake which is helpful not only to humans but also to the migratory birds, give us immense satisfaction.